Gerlach '05 Receives Service Award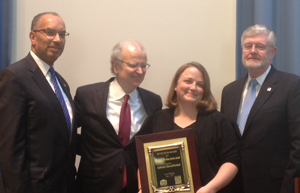 Catherine Sinwell Gerlach, a 2005 graduate from Ripon College's Politics and Government program, was awarded the New York State Bar Association (NYSBA) 2013 President's Pro Bono Service Award. Gerlach, currently a third-year student at Syracuse University's law school, chairs the law school's Pro Bono Advisory Board.
According to the NYSBA, Gerlach has donated nearly 600 hours to various pro bono programs. In October, she testified in front of Chief Judge Jonathan Lippman's hearing panel on access to civil legal services in support of law student participation in pro bono work.
To read more about this honor, click HERE.
To read more about Ripon College alumni in the news, click HERE.
---
Related Posts