Student Successfully Lobbies for Composting Change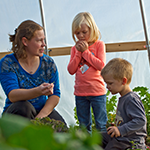 Thanks in large part to the efforts of the Sodexo sustainability intern at Ripon College Kaitlyn Welzen '15, and a number of Ripon College faculty and staff members, Ripon College will soon be able to compost a significant percentage of its solid waste, something previously prohibited by city ordinance. After researching the obstacles to composting on campus in the Ripon municipal code, Welzen composed a letter and gathered support and signatures from staff members on campus, including College President Zach Messitte, Sustainability Coordinator Samara Hamzé, and members of the Environmental Health and Safety/Security Committee.
Thanks to their petition for change, Ripon College and other local institutions will be permitted to compost "grass clippings, leaves, herbaceous wastes, raw fruit and vegetable food scraps, chipped tree waste, sawdust, evergreen cones and needles, egg shells, coffee grounds, paper products, or additional materials approved by the city." Previously this type of composting had been limited solely to areas zoned for residential properties. The amendment passed the Ripon city council by a unanimous vote, 8-0.
Previously, the College did compost dining hall waste, but it had to be driven five miles off-campus to Fraser Farm.
With this change in statute, the composting will now be conducted in a three-bin system at the Environmental Group of Ripon's (EGOR) garden near the base of the Ceresco Prairie.
Welzen took over as Sodexo's sustainability intern this fall, and, according to Sarjit Singh, general manager of Sodexo Foods at Ripon College, she has been key to the dining staff's increased success in recycling efforts with cans, plastic, paper and cardboard. Thanks to this successful petition for expanded composting, Singh said, "We are working next on getting our own herb garden going using our own composting."
According to Welzen, as the composting program expands, Sodexo will primarily be composting pre-consumer waste such as, "banana peels when they make banana bread, fruits, vegetables, coffee grounds, paper towels, and egg shells." Eventually, she hopes they will be able to expand the program to allow students to compost post-consumer waste as well.
---
To learn more about Sustainability at Ripon College, click here.
[retweet]
---
Related Posts