Life at Ripon — Chuchen Tan '16
Chapter 2: Fall Festivities
[Editor's Note: Chuchen Tan '16, Sara Driebel '16, and Jacob Sahr '16 are writing rotating monthly entries for the Ripon College Newsletter chronicling their senior year experiences. We hope you enjoy their perspectives on Life At Ripon!]
Dear Ripon College Alumni and Friends,
How time flies! The leaves are starting to change color again, and we can sense the beautiful fall surrounding us. Ripon College is as beautiful as ever on this brisk morning in October! A lot has happened this month, and here are some of the highlights.
Homecoming and Family Weekend just happened. Ripon College won the football homecoming game, and two of my friends were voted royalties. For those of you who decided to come and visit Ripon again, I hope it brought back some great memories. I have been told that the College has changed quite a bit, but the good thing is that its core values stayed consistent throughout these many, many years.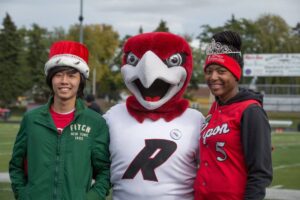 As I sat in Starbucks during Homecoming Weekend, sipping some warm apple cider and chatting with my friends, I was truly amazed at how everything came together in such harmony. The cold weather did not dim our mood a bit!
On Friday night, a lip sync battle commenced in the Pub, where five teams from different student organizations competed against each other with their well-practiced songs and dances. Competition was as fierce as it was entertaining. The Ripon College Math Club, or "Limitless", won first place as they rocked the song "Everything is Awesome." Here is a peek at their performance:

They have also posted the video on YouTube, and here is the link. If you have not yet had a chance to see it, please do as it will make your day!
As Fall Break approaches, the academic part of our lives has gone hectic as usual. It's just a few weeks until we can relax and do some quiet reading again! I hope your week goes well, and remember, it is never too cold to come visit us in Ripon!
---
Related Posts