New Athletics, Health and Wellness Center Will Honor Alumna and Trustee
When Ripon College opens its new athletics, health and wellness center this August, it will bear the name of alumna Dena G. Willmore '67, an Honorary Life Trustee.
"Dena's enthusiastic and unprecedented support turned this facility from a dream into reality," said Zach Messitte, president of Ripon College. "There is hardly a person, department or really anything on the Ripon campus that has not been affected by her support. We are proud to have a new and beautiful state-of-the-art building in which to pay tribute to Dena's unwavering commitment to Ripon College."
The Executive Committee of the Ripon College Board of Trustees approved the Willmore Center name for the new building earlier this spring. A celebratory ribbon-cutting is scheduled for Saturday, Oct. 7, 2017.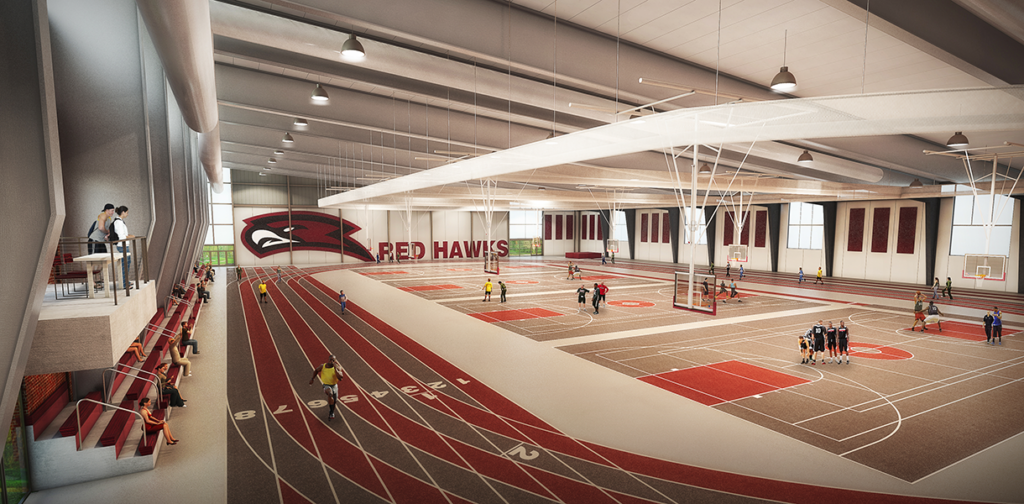 Construction is nearing completion on the $22-plus million project, which features a signature 65,000-square-foot field house with four performance courts and the Doug and Audrey Lyke Memorial Track – what some are predicting will be the best NCAA-regulation indoor track in the state of Wisconsin. Other enhancements include the new Agnesian HealthCare Athletic Training Center and physiology lab, a 9,000-square-foot fitness center and cardio balcony, three fitness studios featuring WELLBEATS, three high-tech classrooms, the Kermit "Doc" Weiske '50 Gymnasium, the Muriel R. Keipe Practice Gymnasium, dining and study spaces, locker rooms, modern offices for intramural and coaching staff, recruiting and club spaces, and more. View progress at Ripon.edu/Revitalize.
"As a student at Ripon, I majored in philosophy, with an emphasis on logic — one of the core tenets of a classic liberal arts education," said Willmore. "Looking at what it takes to have a healthy, well-rounded life, there is another element that should be an essential part of a liberal education: awareness of and participation in our own physical well-being. We all benefit from training our bodies as well as our minds.
"Ripon's dedication to the principle of a Life Well Lived is embodied in the new wellness and athletics center, and I am grateful to be able to contribute to this facility that will benefit our students for generations to come."
Willmore graduated from Ripon College in 1967 and is a retired partner and senior vice president of Wellington Management Co. in Boston, Massachusetts. She served on the Ripon College Board of Trustees for 22 years and chaired the Board from 2003 to 2009. The College presented her with the Distinguished Alumni Award in 2007 and the Medal of Merit Award in 2012. During her tenure on the Board, Willmore provided leadership on numerous committees, chaired two presidential searches, volunteered as host for numerous events, and, most recently, led the successful Imagine Tomorrow campaign that ended in 2015 and raised more than $67 million for scholarships, programs and support. She also provided the initial support for the expansion and renovation of the athletics, health and wellness facilities.
Willmore is one of the top donors in the history of Ripon College and has made numerous gifts throughout her life to the Annual Fund, scholarships, career and classroom programming, facilities improvements, the Ceresco Prairie Conservancy, faculty and student research, and the endowment. She also is a charter member of Partners in the Legacy, including Ripon College in her long-range philanthropic plans.
The Trustees also formally recognized the legacy of Hall of Fame Coach and Athletic Director John M. Storzer by naming the new football locker room and facilities in his honor. Storzer, who died in 1973, started at Ripon College in 1957 as assistant football coach and head baseball coach, and a year later became the head football coach. He became the athletic director in 1968. He was inducted into the Ripon College Athletic Hall of Fame posthumously in 1981.
Storzer was one of the nation's most successful small college coaches between 1957 and 1973, winning five Midwest Conference Championships during his career, including four in a row (1963-66) and five in a six-year period. He was the head football coach of Ripon's last undefeated team (1963), which finished with an 8-0 record. Today, Storzer maintains the third-highest win total in Ripon College program history, compiling a career record of 87-39-4 for a winning percentage of .685. Not one to dwell on winning, he often said, "The ultimate ways to judge a coach is to see what kind of people his players are 10 years later."
For more information about the Willmore Center or to contribute to the ongoing renovation and expansion of Ripon College's athletics, health and wellness facilities, please visit Ripon.edu/Revitalize.
---
Related Posts