Red Hawks cycling reinvigorated by alumnus gift
The Ripon College Cycling program has received a renewed "kickstart" thanks to a major gift by cyclist Kyle Greene '15 of Minneapolis, Minnesota, and his family. Their $250,000 donation to Red Hawks Cycling includes funds to hire the team's first full-time varsity coach and establishes The Greene Family Cycling Room within the new Willmore Center for athletics, health and wellness.
"This gift makes Ripon a destination for young cyclists throughout the Midwest and the nation," said Zach Messitte, president of Ripon College. "The opportunity to compete in cycling at the collegiate level while also getting an amazing liberal arts education makes us unique."
Founded in 2009, the Ripon Cycling program is the only USA Cycling varsity program in the state of Wisconsin. The team competes as part of the Midwest Collegiate Cycling Conference, comprising schools from the states of Wisconsin, Michigan, Ohio, Illinois, Indiana, Kentucky and Missouri. In its first decade the team has had 45 individual national qualifiers and consistent Top 10 team finishes in mountain bike; 20 individual national qualifiers in cyclocross, including a third-place team finish at cyclocross nationals in 2014; one national qualifier in track; eight conference team mountain bike titles (D2); three conference team cyclocross titles (D2); 10 conference individual mountain bike omnium titles (D2), including one overall individual omnium title (D1 and D2); three conference individual cyclocross omnium titles; and one conference individual track omnium title.
Greene, who earned his A.B. in business management and economics from Ripon in 2015, competed in cross country, short track cross country, dual slalom and downhill for Red Hawks cycling. He recorded a first-place finish in men's downhill as part of the B team in the 2011-12 season, a top 15 finish in the men's downhill at the Mountain Bike Nationals in 2012, and two Top 30 finishes in the dual slalom at Mountain Bike Nationals in 2012-13 and 2013-14. After an injury in 2014, Greene stepped up to lead the team as a student coach in 2015.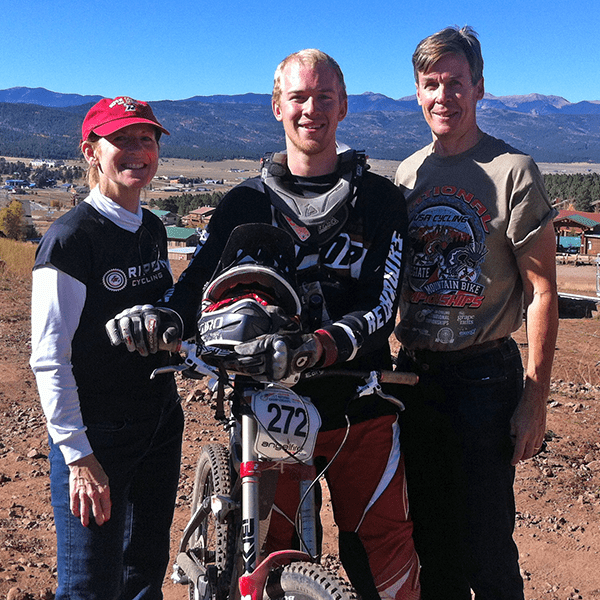 "The cycling team provides constant motivation and support to help its members thrive throughout their college careers and into life beyond Ripon," Greene said. "Without the cycling team, I would never have found Ripon and it was one of the most important aspects of my time at the college. My family and I believe that Ripon's future lies in the success of the motivated student-athletes of tomorrow. It is our hope that the cycling team features prominently in this future."
Among the powerhouse cycling schools, Ripon stands out as a leader in academics. Ripon College remains the only school with a USA Cycling varsity team to be recognized as one of "The Best 381 Colleges" by The Princeton Review and the only one to achieve Tier 1 ranking by U.S.News & World Report. Ripon is the only school with a varsity cycling team to have a chapter of the prestigious Phi Beta Kappa national honor society.
Thanks to a grant from Pepsi in 2010, Ripon built an IMBA-designed and purpose-built singletrack mountain bike trail in the 130-acre Ceresco Prairie Conservatory, located on campus. The College also is surrounded by well-paved, quiet country roads that are perfect for cyclists.
Greene hopes the additional support for cycling will offer Ripon students an experience similar to the one he shared with teammates. "Cycling is a lifelong sport, and I plan to carry it — and the friendships made — into the future along with my alumni friends," he said.
For more information about the Revitalize campaign and other ways to support Ripon College, visit ripon.edu/give.
---
Related Posts