Flint whistleblower Marc Edwards to deliver keynote at Ripon College Commencement, May 19
Marc Edwards, civil and environmental engineer and the lead investigative scientist uncovering the 2001-2004 D.C. lead contamination and the 2014-2016 Flint water crisis, will provide the keynote address and receive an honorary degree at Ripon College's 153rd Commencement ceremony May 19.
Each year, Ripon organizes Commencement activities around a theme. The 2019 theme celebrates "Caring for Our Environment" by recognizing regional partners and national exemplars who model actions to act locally on sustainability and conservation efforts.
"Marc Edwards offers an extraordinary example of how scholars can work with communities to change the world for the better," said Ed Wingenbach, acting president of Ripon College. "He has brought national attention to local problems and collaborated with citizens to demand solutions. Our mission is to prepare graduates to be productive, socially responsible citizens – Dr. Edwards embodies that goal."
Edwards is a University Distinguished Professor of Civil Engineering at Virginia Tech where he teaches courses in environmental engineering, applied aquatic chemistry and engineering ethics. He also is responsible for the largest citizen science project in U.S. history.
Edwards and his water study team from Virginia Tech engaged in a decade-long battle beginning in the early 2000s that exposed health problems associated with lead in drinking water and agency misconduct in the nation's capital. In 2015, Edwards arrived in Flint, Michigan, to conduct what became an unprecedented independent evaluation of water contamination in residents' homes that exposed problems with legionella and lead and brought national attention to the water crisis.
Time magazine dubbed Edwards "The Plumbing Professor" in 2004, listing him among the four most important "Innovators" in water from around the world. The White House awarded him a Presidential Faculty Fellowship in 1996, and, in 2013, Edwards was the ninth recipient in a quarter century of the IEEE Barus Award for "courageously defending the public interest at great personal risk." In 2007, Edwards was awarded a MacArthur Fellowship, commonly known as the "Genius Grant," which recognizes individuals with extraordinary capacity for innovation and creativity.
In 2016, Edwards was named among Time's 100 Most Influential People in the World, the World's 50 Greatest Leaders by Fortune magazine, Politico Magazine's Top 50 Visionaries who have transformed American politics, Foreign Policy magazine's 100 World's Greatest Thinkers, and was short-listed amongst Flint whistleblowers as Time person(s) of the year. He was co-recipient of the inaugural 2017 MIT Disobedience Award and received the 2018 Scientific Freedom and Responsibility Award from the American Association for the Advancement of Science.
Edwards earned his bachelor's degree in biophysics from the State University of New York at Buffalo and master's and doctoral degrees in environmental engineering from the University of Washington.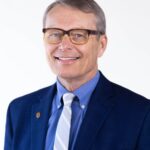 John Nelson, an adjunct professor of civil and environmental engineering at the University of Wisconsin-Madison, also will receive an honorary degree. He serves as chairman of MEP Associates LLC, an engineering consulting firm, and as chief technical officer of Fitzgerald Asset Management, an infrastructure asset manager. Nelson is past chair of the UW Nelson Institute for Environmental Studies Board, a former board member of the Green Lake Association and a current member of the UW Foundation Board.
As a multi-generational property owner on Green Lake, Nelson has been a staunch advocate for finding scientific answers to Green Lake's degrading water quality. He facilitated a research relationship between the Nelson Institute and Green Lake Association to provide historical data aggregation and issue-specific applied research. These efforts, in collaboration with a variety of other organizations and stakeholders, help the advancement of a model and plan for watershed management.
In 2018, Nelson and his wife, Linda, established an endowed professorship in the Nelson Institute's Water Resource Management Center. They also established a Wisconsin Distinguished Graduate Fellowship to fund graduate students within the center. The center's current chair, Professor Anita Thompson, and several of her graduate students have ongoing or completed research projects based on Green Lake.
Ripon College's 2019 Founders' Day Award will be presented to representatives from the Green Lake Association, Green Lake Sanitary District and Green Lake Conservancy. For the past 16 years, this award has been given to recognize an individual or organization in the greater Ripon community who exemplifies the ideals of the founders of Ripon College and who has contributed above and beyond to the mission of the school. The honored organizations are longtime collaborators with Ripon College and have contributed significantly for decades to sustainability and conservation efforts in Green Lake.
Honorary degree recipients will share their insights regarding "Caring for Our Environment" during the Senior Brunch and Forum at 10 a.m. Sunday, May 19. The Commencement ceremony begins at 1 p.m. on the lawn of Harwood Memorial Union. Updated information is available at ripon.edu/Commencement.
---
Related Posts