Gary Yerkey '66 tells story of historic civil rights march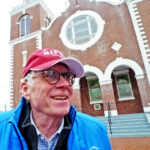 The 1965 Selma-to-Montgomery civil rights march had a tremendous impact on the history of the United States, as well as a direct personal impact on Ripon College.
A new book by Gary Yerkey '66 of Washington, D.C., details his participation in the march along with a small group of other Ripon College students and the Rev. Jerry Thompson, then chaplain of the College. "South to Selma: 'Outside Agitators' and the Civil Rights March that Changed America" also includes information about the broader civil rights movement, with some context and analysis.
The book is available on amazon.com here.
"The book talks about the debate within Ripon College about whether the school should support sending students, or whether it was something that shouldn't really concern us being that it was in the South," Yerkey says.
The students who wanted to participate didn't have enough money to go on their own and had asked the Student Senate for funding. "They gave us $400, which was a lot of money in those days," Yerkey says. "That prompted a major demonstration on campus. The Rev. Thompson eventually convinced the students who were against it that it was something we needed to do." The Rev. Thompson was a religion professor at Ripon College from 1962 to 1985, and also served as the College's chaplain and football coach.
Yerkey says he felt very strongly that the march was something he wanted to do, but he can't fully explain why. "It was something I just felt was right to do," he says. "The Rev. Thompson was very committed to civil rights and human rights. Many of us admired him, and he made a good case."
Yerkey says there were genuine fears among the participants. "It's important to understand the 1960s was an extremely violent period in American history, particularly in the South," he says. "At that time, the violence was very organized and systematic on the part of white supremacists. There were lynchings, daily killings and beatings of blacks and whites by the Ku Klux Klan. Particularly, students from the North were thought to be interfering in the affairs of the South, and there was a lot of anger about that among white people in the South.
"We (the marchers) were concerned, and we were nervous. It was not something we took lightly. We were called 'agitators,' but we were proud, actually, to be agitators. The march itself was very exciting. President Lyndon Johnson called in federal troops to protect the marchers, so the fear factor was a little less than it might have been. But I remember being quite concerned about our safety."
He says the march had great impact. "The march itself is credited with having forced Congress and President Johnson to enact the voting rights act of 1965," he says. "So that was a very practical outcome of the march. It was the first time that guaranteed for all citizens the right to vote.
"For those of us who participated, it showed us that protests of this kind — organized, non-violent protest — could have a major impact. It reinforced the view for a lot of us that this was something we wanted to continue to work at."
He hopes his book will have a similar impact on today's younger generation. "I hope it will inform young people that change can be difficult," he says. "It takes time, it takes commitment, it takes effort.
"Today, if something doesn't happen immediately, we give up on it. The civil rights movement began in the mid-1950s in earnest. We came into the civil rights movement toward the end of it. So we're talking more than 10 years at least. If something takes that long today, commitment and persistence are rare. I hope the book will show that things can be done, but it takes a lot of work and it takes time."
---
Related Posts