William E. Merriman
First President of Ripon College, 1863-1876
On April 23, 1863, the Reverend Dr. William E. Merriman, a graduate of Williams College and Union Theological Seminary, was elected the first president of Brockway College, at a salary of $1,000 a year. He immediately proved his dedication to the task of building the fledgling institution by relinquishing his salary (except for living expenses) in order to bring the College out of debt. When he assumed office, Merriman was greeted by two unfinished buildings and a debt of $20,000. The faculty was only one professor besides himself, and college courses were offered for the first time that year to a mere half-dozen students. Within a year Merriman had brought East and Middle Colleges to completion, liquidated the debt, and obtained a new charter which named the institution Ripon College.
---
Edward H. Merrell
Second President of Ripon College, 1876-1891
Dr. Edward H. Merrell, a graduate of Oberlin College and Oberlin Theological Seminary, was appointed president at the June, 1876, meeting of the board of trustees. His affiliation with the College, however, dated from 1862, when he was appointed principal of the preparatory department and professor of languages. During his sixteen-year tenure as president, the College grew dramatically. A new chemistry laboratory made it possible to discard the obsolete method of exclusive textbook-lecture instruction; East Hall was expanded to twice its original size; the College acquired its first athletic field; and the original $50,000 endowment was multiplied several times. Although he retired as president in 1892, he remained on the faculty until his death in 1910, and all of his seven children attended Ripon College.
---
Rufus Cushman Flagg
Third President of Ripon College, 1892-1901
Ripon's third president was Dr. Rufus Cushman Flagg, a widely respected biblical scholar and Congregational minister with a flair for financial management. Within one year of assuming office, he raised $50,000 in pledges, thereby qualifying the College for an $80,000 gift. He also launched a program for modernization by adding men like O.H. Ingram and Albert G. Farr to the board of trustees and by gently bringing about the retirement of several of the more conservative board members. Ingram Hall was built in the last year of his administration.
---
Richard Cecil Hughes
Fourth President of Ripon College, 1901-1909
Dr. Richard Cecil Hughes, a Presbyterian clergyman and teacher of psychology, was instrumental in designing and implementing a college curriculum at Ripon for the twentieth century, and he completed the modernization process begun by Dr. Flagg. Under his leadership, preparatory classes were greatly reduced and the educational program was expanded to include most of the subjects comprising a modern liberal arts curriculum. In 1906, Hughes obtained a $20,000 matching gift from Andrew Carnegie which resulted in a total gain to the College of $40,000.
---
Silas Evans
Fifth President of Ripon College, 1910-1917 & 1921-1943
Silas Evans, a graduate of Ripon College (class of 1898), Princeton University, and Princeton Theological Seminary, retired as teacher of Greek and Hebrew at the University of Wisconsin to accept the presidency of his alma mater in 1911. During the next 32 years (except for a stint as president of Occidental College in California from 1917 to 1921), the name of Silas Evans was virtually synonymous with Ripon College. Under his leadership, the College grew to full maturity; preparatory classes were dropped for good in 1913. In spite of the Great Depression, he continued to build the College's physical capacities by adding Lane Library, the Tri-Dorms, and the Harwood Memorial Union. Respected and loved by generations of Ripon students, faculty, and friends, Dr. Evans was honored by the board of trustees with an honorary degree of Doctor of Humane Letters upon his retirement in 1943. Three of his children also attended Ripon.
---
Henry Coe Culbertson
Sixth President of Ripon College, 1918-1920
Dr. Henry Coe Culbertson, a student of law and divinity and previously president of Emporia College in Kansas, served as Ripon's president briefly between the two terms of Dr. Silas Evans. In his first encounters with the Ripon College community, his skill in public speaking made a strikingly favorable impression. Unfortunately, however his health and personal problems seemed often to interfere with his duties. He returned to the ministry in 1921, and went on to an outstanding career as a pastor and preacher in California and Ohio.
---
Clark G. Kuebler
Seventh President of Ripon College, 1943-1954
Dr. Clark G. Kuebler came to Ripon in 1943 after a brilliant career as a scholar, lecturer, and teacher of classics. Although he served as president of the Episcopal Church's National Council of Churchmen for several years, Dr. Kuebler was Ripon's first president without a ministerial background. He helped to establish a national reputation for the College by conducting lecture tours across the United States and abroad, by seeking students from diverse backgrounds, by expanding and improving the faculty, and by establishing local chapters of national organizations at Ripon – most notably, Phi Beta Kappa. The College's centennial was observed during his administration with a Second Century Program which expanded the physical plant and added to the endowment.
---
Fred O. Pinkham
Eighth President of Ripon College, 1955-1965
A graduate of Kalamazoo College and Stanford University, Dr. Frederick O. Pinkham came to Ripon after serving as assistant to the president of George Washington University and as executive director of the National Commission on Accrediting. He was also an experienced teacher and lecturer. During the Pinkham years, the student body, faculty, administration, and physical plant were all expanded, and administrative procedures were modernized. Thanks to his personable brand of leadership, college relations with the local community and with alumni were strengthened. Dr. Pinkham launched a Long-Range Development Program which added the John Storzer Physical Education Center, a clinic and infirmary, and new campus heating facilities. He was also instrumental in the formation of the Associated Colleges of the Midwest, of which Ripon is a member.
---
Bernard S. Adams
Ninth President of Ripon College, 1966-1985
Dr. Bernard S. Adams assumed his duties on October 10, 1966, at the age of 38. A graduate of Princeton University, Yale University, and the University of Pittsburgh, Adams' earlier experience included teaching English Literature and a wide range of administrative responsibilities at Princeton, Pittsburgh, and Oberlin College. In his years at Ripon, Dr. Adams continued the expansion of the physical plant (the Wehr Learning Resources Center addition to Lane Library was completed in September, 1974), and continued the modernization of the administration and the curriculum – overseeing the addition of off-campus, independent study, self-designed, and interdisciplinary programs. The flexibility of Ripon's educational program enabled it to effect the transition from an era of unprecedented growth in American higher education to an era of consolidation.
---
William R. Stott, Jr.
Tenth President of Ripon College, 1985-1995
William R. Stott, Jr., tenth president, is pictured at the 1988 commencement ceremony. He was perhaps the most successful fundraiser of all presidents of the College. During his tenure, the College's endowment nearly tripled. Stott was responsible for several major renovation projects on campus, including Tri-Dorms, Bartlett, Scott Hall, and the Farr Hall project which is scheduled to begin this fall. Stott taught an English class each semester as well as leading several popular classes and tours for the general public on topics such as Shakespeare, the Globe theater and birdwatching. His wildlife art, photography, and poetry were published and exhibited at Caestecker Gallery in 1995 and he also led tours to the Antarctic, Costa Rica, and and other exotic locations while he was president. A "Rennaissance Man," he will be remembered for his unbounded energy, many areas of expertise, and leadership in creating a positive and lively image of Ripon College.
---
Paul B. Ranslow
Eleventh President of Ripon College, 1996-2002
Paul B. Ranslow, pictured at left with his wife Stephanie, was inaugurated as the eleventh president of Ripon College on September 29, 1996. President Ranslow came to Ripon from a position as executive vice president for admission at Pitzer College in Claremont, California. Dr. Ranslow has more than 22 years of higher education administration experience, including service as interim president at Pitzer in 1991-92. President Ranslow and his wife made their mark on campus by their participation in campus activities, their friendliness and approachability, and their sunny, positive approach to the task of leading a small liberal arts college to a better understanding of its strengths and of potential areas for growth and exploration.
---
David C. Joyce
Twelfth President of Ripon College, 2003-2011
Prior to taking office as the twelfth president of Ripon College, Rev. Dr. David C. Joyce served as president of Union College in Barbourville, Kentucky from 1996-2003. Prior to becoming president at Union, Joyce was vice president for institutional advancement at Otterbein College in Ohio. He was involved in development and fund-raising at several institutions, including the Western North Carolina Conference of the United Methodist Church, The Divinity School at Vanderbilt University, and Pfeiffer University. He also served as assistant dean of students at Elon University in North Carolina. Joyce — the first member of his family to graduate from college — received a bachelor's degree in psychology from Pfeiffer University in Misenheimer, N.C., a master of divinity in pastoral psychology from the Yale University Divinity School, a master of science in psychology from North Carolina State University, and a doctorate in human resource development from Vanderbilt University in Nashville, Tennessee.
---
Zach P. Messitte
Thirteenth President of Ripon College, 2013-2021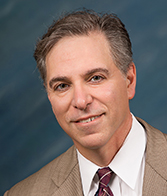 Dr. Zach Messitte is the 13th president of Ripon College. Prior to assuming the presidency at Ripon in July 2012, he served as the dean of the College of International Studies at the University of Oklahoma where he has also held the William J. Crowe Chair in Geopolitics.
A teacher first, Dr. Messitte was in the classroom every semester at Oklahoma, leading courses on American foreign policy, introduction to international studies and senior seminars on foreign policy, media and film. He plans to begin teaching at Ripon during the 2013-14 academic year.
The author of numerous articles, he is the co-editor of a new book, Understanding the Global Community, and hosted World Views, an award-winning program on National Public Radio from 2009-2012.
From 2002 to 2007 he was the Director of the Center for the Study of Democracy and a member of the political science faculty at St. Mary's College of Maryland, the state's honors liberal arts college.
Born in Sao Paulo, Brazil while his parents were working in the Peace Corps, Dr. Messitte grew up in Chevy Chase, Maryland. He received a bachelor's degree in American history and Italian language from Bowdoin College, a master's degree in international relations from Johns Hopkins University, and a doctorate in politics from New York University.
Prior to entering academia, he worked for the U.S. Senate Select Committee on Intelligence, the United Nations and the Cable News Network (CNN). He and his wife, Julia, have two sons: Sam and Jules.